Setting up your own successful online business can be an uphill task. You need to first figure out your niche or your area of expertise. Then you need to create your own website. Make suitable content for it. Put out and market your products. All this takes a long time and it will also be a long time before your business begins to grow and be successful.
One way of entering the very successful online business market can be to buy an existing online business and its website. This means that whichever website you choose to buy whether it be an e-commerce website or a simple blog, you will now also buy and become responsible for its existing online presence, its ongoing business, and any debts, its target customers and audience, its domain name, and email lists.
Starting your own business from the ground up is an exciting yet daunting task. There is an equal percentage chance of success or failure in starting your won website. It can also take a long time for your business and a website to support that business to start gaining traction and establish a guaranteed, passive flow of income. Buying websites of well-established businesses is a game-changer. Here are some reasons why it's better to invest in websites:
Reasons to invest in a successful website-
If you are on the fence about starting your own business and its respective website or buying an already profitable website, or even a website that is stagnant and you have a plan of improving it, here are reasons why the latter is always a good choice-
Old is better than New in this case
A website that is already established and running is easier to run than a website that is newly established. Making a new website requires time and energy. And as mentioned before, it takes quite a while for your website to make a commanding online presence. A website that is already off-the-ground is much easier to handle and manage.
The original owners of the website you wish to purchase have already laid the groundwork for you. Your main focus at this moment will be to work at increasing and improving the existing business.
As we have mentioned before, it takes a long and incredible amount of time and effort to get your website started. And there's a higher chance of loss than profit in most newly-designed websites.
According to the Bureau of Labor Statistics' Business Employment Dynamics, 50% of new businesses fail in the first few years of their launch. Only 40% of new businesses end up being profitable in the end.
But when you have an established business with a steady source of income, be it small or big, you can always make improvements o it to increase its income. Which leads us to the second point:
A guaranteed source of income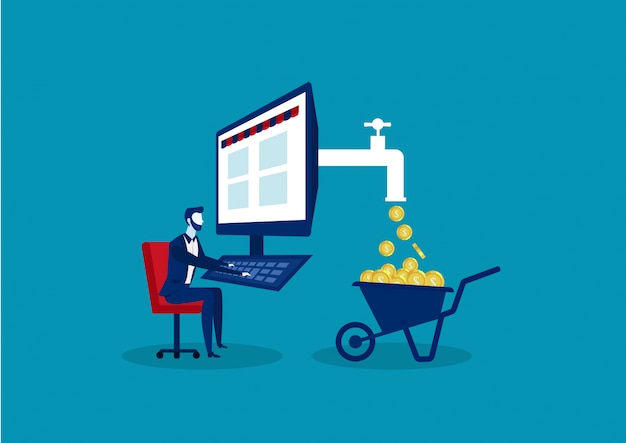 Many new websites encounter several problems in the beginning; the main being finding a steady income from their new website. Many sites go obsolete or are abandoned by their owners because they fail to gain a suitable income over time.
When you tap into an existing online business, you are already receiving income from it. The income can be suitable or scare, but you will always have the option of making improvements to it. With some strategic improvements, you can always increase the income. But it is a given point that it is better to have an income, to begin with, no matter how big or small.
Let us look at two examples of how this point comes into play-
A site called copycatcrafts.com was bought for 4000 dollars by Chris Guthrie. Its initial income was 100-200 dollars only. But with some significant improvements, Chris managed to earn $649.06 per month after a year.
The site TheBachelorBracket.com was bought by Dan Anton and Allison Burn, in 2015. This site was a popular fandom site for the show Bachelor and Bachelorette. Although the site was successful on its own, Dan was able to make some improvements to the site and it increased by 115% in just one year for revenue of $4,201.
A Target audience already exists
An up and running website already has a base of customers that are reliant on it. This can be profitable for you, the new owner of the website. The website you purchase already has a traffic and customer base, a valuable point that you lose if you wish to launch your own website. As mentioned before, it takes time to gain supporters and customers.
Take this case in consideration-
David Sinick, a web entrepreneur had a successful business of his own- True Foods Market. This site specialized in paleo diet food. He decided to purchase PaleoLifeBox.com through a website broker for only $13,000. PaleoLifeBox.com was a monthly subscription website for paleo food dieters. He was able to successfully merge his existing business with this new venture and was able to gain 100 customers over time.
Now that we have established the case for buying existing websites, here is a guide on how to choose which website to buy or invest in-
The website platform
The platform your website is based on is an important factor mainly because it will be the starting factor to determine the costs you'll have to take up in your new venture.
The most common platforms for websites are WordPress, Joomla, and Drupal. These are open-source website platforms that are a part of the CMS (Content Management System). These are flexible platforms rich in various designs and features for the improvement of your websites.
Smaller website hosting platforms include Wix, Squarespace, Weebly, HubSpot, and DudaOne. There are also hosting providers – like GoDaddy and HostGator – that have their own tools for website-building or offer access to the above-given website platforms.
The choice of platform will determine:
the costs you'll take up for your new website,
whether you'll need outside or expert help,
how flexible and easy the site is to work with.
The most common website hosting platform is WordPress and it is highly customizable and host to a number of templates and design ideas.
Domain or the name of the website
Although this might not seem like a make-or-break factor, the wrong domain name can hurt your business badly. A domain name is what will set up your online presence. Go for a domain that is simple and to the point. For example, if you are a fitness website, people won't flock to your website if you have a name like boredpanda.com.
History of the site
Before you purchase an existing website, you must absolutely check its background and track records. Check how old the website is. Websites that are a few months old will obviously have more workload and will need more time and energy. If you choose to buy a website that is relatively new but you see a potential in it to grow, be aware of the risks and check the reputability of the sellers.
Always ask suitable questions to the seller of the website. Its history, its financial records, and all the important data must be taled about.
Websites that are a few years old will perform better and provide instant income. Go for websites that are at least a year or two old with an established business.
Ensure that there are no Google penalties on the website you choose to purchase. If a website tries to violate Google's Webmaster Guidelines and tries to increase its search rankings using shady SEO tactics, it is generally penalized by Google. This penalty will make the site lose its search engine ranking and will be under such penalty until it takes corrective measures.
It is advisable to hire an experienced SEO expert for reference before purchasing the website. The website's Search Console account will show up any notifications if there is a penalty.
Its current financial status
Always ensure that you get all the financial records of the website before you make the purchase. A website that is a year or so old has already established itself in the online business market and thus has to be making money. Ensure that it is proving some form of consistent income or is at least breaking even.
The revenue that the website is generating will give you a clear picture of what is working and what is not working out. Go through all the finances with the owner of the website or hire an accountant who will help you keep track.
The target audience and maintenance
The website that you choose to purchase can have either have its own set of dedicated customers who are loyal to the website and keep coming back to it or it is yet to find its target audience. Whatever the case may be, you can improve the customer situation of the site immensely with help of tools like Google Analytics to see where the traffic is coming from, are they finding the website helpful, how often do they come back and are they finding what they are looking for in your website.
Ask the owner of the website the strategies they use to attract customers to their website. Do they have social media accounts on various social media platforms? Do they have backlinks to their websites? Do they use strategies such as Pay Per Click ads on Google, Facebook or any other platform?
Now that we've established some ground rules before purchasing a website, here are the ways you can purchase websites online.
Ways to buy existing websites
Online markets
There are some popular websites that sell other websites to potential buyers. They are sold on the basis of profit and revenue, the number of customers, etc. Some popular sites are –
Brokers
You can also find individual website brokers on websites such as https://feinternational.com/ and https://empireflippers.com/. These brokers work directly for the seller or owner of the website for sale. They overlook all the details of the purchase and sale for the owner.
A Final Word
It has clearly been established in this article that it is better to buy an existing website than creating your own from scratch. There are many undervalued websites available for sale online. Working on such websites will require due diligence and patience. Asking for expert help or opinion can also help you tremendously. Investing in websites is no easy chore but with the right help and guidance, you can make a suitable profit from them!